Salesforce Integration:
Your Data at Your Fingertips – 24/7
Regardless of the industry you're in, we all live in a world full of data. We use tools every day that allow us to see our consumers in many different ways, but when that data is idle in multiple applications, it can be difficult to see the full picture. Allowing applications to "talk to" one another, whether its accounting apps, email marketing or CROs is the key to driving business forward.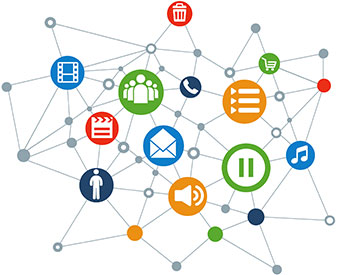 Integrating Salesforce with all of your company's applications and systems is a critical way to get the most complete picture of your consumer, and help you make informed decisions along every step of the sales process.
Applications and platforms that you use should seamlessly connect to each other keeping data in-sync all the time, without manual actions. Whether your team is all together in one office, or in hubs across the country, you should have the freshest and most complete information related to all of your projects, all the time – and all in one place. This may sound like a pipe dream for your organization right now, but our San Diego-based Salesforce integration specialists can make it a reality for you – no matter where you are in the world.
What are the benefits of Salesforce integration?
Do your sales team members need to login in to three, four different places to obtain a complete picture on client performance before they make a call?

Do they need to keep another excel spreadsheet with combined numbers for each client?

Do they need to pull reports from different apps and merge them manually?

Do they need to upload new sets of data once in a while to keep your data set fresh?

Do you occasionally update data from Salesforce to other apps and cross check it?
If you answer "yes" to these questions above, it's a time to focus on Salesforce integration.  Our experts have excellent technical development backgrounds, solid business consulting experience and a track record for success. We would be happy to deliver a turn-key Salesforce integration solution for your business.
How can Salesforce integration be implemented?









Salesforce Data Loader for Data Migration

Our experienced data architects in San Diego can migrate data into a Salesforce database for you. Depending on your source data, database size, and requirements it can be done by using Data Loader, web-based Data Import Wizard, or another third-party tool. During migration, we will ensure quality of loaded data: it should be complied with your requirements, pass all validations, and don't have any data duplication.

Data Management and Governance

We will work with you to define business object attributes and design a data structure making sure it's robust and satisfies your business and security requirements. We will imply it with all available tools in Salesforce: data validation rules, automated record updates, security settings, and other. We always emphasize robust data structure, because data is the foundation; it is what you own, and what follows you whether it lives in your Salesforce database or in another platform.

Salesforce Backup and Export

Whether you must have a backup for compliance or simply need certain data exported for advanced analytics, we can help you. It can be achieved with different tools on a recurring schedule.

Salesforce Outlook Plugin and Email Integration

Salesforce for Outlook is an app that you install on your computer. It automatically syncs contacts, events, and tasks between Outlook and Salesforce. With the Outlook Plugin installed, you will be able to see Salesforce contacts and leads related to your Outlook emails.

Emails that you send from Outlook can be recorded back to Salesforce as contacts and leads activity allowing you to keep using your favorite desktop app for email Outlook now seamlessly integrated with Salesforce.

If you are using Gmail, there's a Gmail to Salesforce app available for both Salesforce Classic and Lightning Experience. Gmail to Salesforce lets you log emails automatically. It also lets you log chats you send from your Gmail account as activities on leads, contacts, opportunities, and any other records in Salesforce that support activity history.
Ensure your Salesforce is connected with the rest of your organization!
 Our team of dedicated Salesforce-certified specialists will be happy to simplify your day-to-day management of Salesforce and make it work for your business at full capacity.

 Your success is our 100% priority!