We Build Custom Salesforce Apps That Work for You
Force.com® is a cloud platform where applications can be developed, packaged and instantly deployed without any additional infrastructure.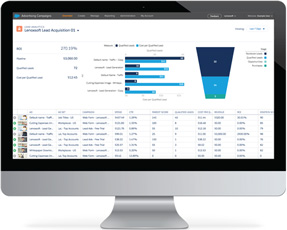 Custom apps run on a secure, proven platform that scales, tunes, and backs up data automatically. They are separate from your Salesforce CRM, but can still be closely integrated with it to take advantage of CRM data that you already have. With Force.com, native mobile apps can be deployed to your users via the Salesforce1 Mobile App. With Salesforce1 Mobile, anything you have in Force.com is immediately available on your users' Android or iOS devices. All out of the box!
Whether you need a small extension to make business operations more efficient, or if you looking to develop a standalone product to sell that runs on Salesforce platform, our certified Salesforce developers in San Diego will make it for you.
Benefits of Salesforce App Development
Why KeyNode Solutions for Saleforce App Development?
While developing Salesforces apps is faster and "easier" than the alternatives, it is still software development and, as such, requires experienced professionals to get the job done right. Our Salesforce developers have expert knowledge of the platform, SDK and programming language. While these skills may not be unique, our team stands apart from the crowd thanks to these 3 attributes:
In-depth Force.com platform knowledge, and Apex and Visualforce development skills contribute to right architecture and high quality code

Extensive business analysis experience ensures products will meet user expectations and align with company vision

We're experts in Software Development Life Cycle (SDLC) and best practices, so you'll get the job done right, the first time
KeyNode Solutions has a proven track record of success in delivering complex, high-performance, and robust software apps using cloud platforms. Version control, continuous integration, test coverage and other terms aren't just buzzwords for us, they're a core part of our entire software development process. That means we deliver apps that are cutting edge and reliable.
Rapidly develop scalable and easy to maintain custom Salesforce apps
 Our team of dedicated Salesforce-certified specialists will be happy to simplify your day-to-day management of Salesforce and make it work for your business at full capacity.

 Your success is our 100% priority!