The Ultimate Salesforce Managed Services to Grow Your Business
Salesforce managed services division was created to solve a problem that companies large and small, face each year: ongoing Salesforce support.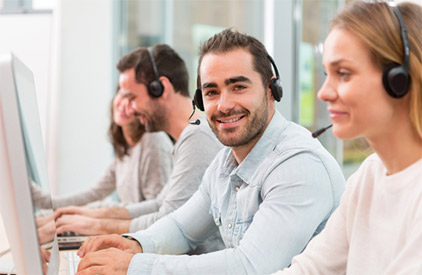 When you're running your business or technology department for business, your time is best spent on making your product the best it can be – not on trying to configure a software that is supposed to work for you. That's where Salesforce managed services comes in. We provide your business with a team of professionals who are certified in Salesforce and can help you leverage Salesforce best practices that will ultimately help your business flourish. From day-to-day support and enhancement management to troubleshooting issues and strategic advice, Salesforce managed services makes Salesforce work for YOU.
We offer a variety of popular monthly support plans, one-time services, or we can customize a unique plan for you.
Our Salesforce customization services include, but are not limited to:
Basic Setup and Customization: Apps, Tabs, Objects, Custom Fields, Formulas, Validations, Triggers, User Interface, Page Layouts for Classic and Lightning Experience, Visual Force Pages, Buttons & Links, List Views

Security and Access: Permission Sets, Profiles, Password Policies, SSO, Audit, Data Access (Organization, Objects, Fields, and Records)

Sharing Model: OWD (organization-wide defaults), Roles and the Role Hierarchy, Sharing rules, Manual sharing, Public Groups

Data Management: Validation Rules, Data Quality, Mass Updating, Mass Transferring, Backup, Export, Import with Data Import wizard and Data Loader

Profile Controls: IP access, login hours, record types, access to tabs, permissions, object permissions, field-level security

Automation: Workflows, Time-Dependent Workflow Actions, Process Builder, Assignment Rules, Email Notifications, SQL Server, Approval Process, etc.

Activity Management: Tasks, Events, Public Calendars and Resources Calendars

Email: Mass-Email, Mass Stay-in-Touch, Auto-Response, Salesforce for Outlook, Lightning for Outlook, Lightning for Gmail

Analytics: Reports (Tabular, Summary, Matrix, Joined), Custom Reports, Dashboards (dashboard components, data sources, chart types, scheduling, and running user), Report and Dashboard Folders, Einstein

Organization and User Setup: Company information, Fiscal year, Locale, Language, Time zone, Currency Locale

Other: Mobile, Salesforce1, AppExchange applications, Sales Process Setup, Quotes, Forecasting and Quotas, Products and Price Books, Web-to-Case, Web-to-Lead, Queues, Account Teams, Sales Teams (Opportunity Teams), Case Management Setup, Email-to-Case, Web-to-Case, Content, Communities, Chatter, and Solutions.
Rely on a full-service Salesforce management company!
 Our team of dedicated Salesforce-certified specialists will be happy to simplify your day-to-day management of Salesforce and make it work for your business at full capacity.

 Your success is our 100% priority!